Cross & Star Evangelistic Association, Inc. Ministries Official Website

"The Spirit of the Lord is upon me, because he hath anointed me to preach the gospel to the poor; he hath
sent me to heal the brokenhearted, to preach deliverance to the captives, and recovering of sight to the blind,
to set at liberty them that are bruised," Luke 4:18

We appreciate your interest and taking the time to view the contents and review the information provided.
We hope and pray you will find our Ministry to be of value to you in supplying your Spiritual needs in all
the areas we may be able to assist.

God has stated in His Word that: "My People are Perishing For Lack of Knowledge." Hosea 4:6. "Therefore,
We are not ashamed of The Gospel of Christ: for it is the Power of God unto Salvation to everyone that
believeth; to the Jew first, and also to the Gentile (Greek)." Rom. 1:16

We are a Christ-centered Non-Denominational Evangelistic Ministry that is geared to meet the needs
of everyone that God sends our way and will allow us to minister the Full Gospel of the Kingdom in them.
Our ministry will strive to conduct ourselves in accordance with the life and pattern of Jesus Christ
and proclaim the Full Gospel truths of the Kingdom Gospel as taught by Jesus and the Apostles.

We believe God has called and ordained us to believe the Scriptures were inspired by God as His Holy
Word and are accurate to stand upon in Faith and minister to all of God's people.

We believe that we are in the Last Days according to the Prophecies as proclaimed in the Scriptures
which will require Combat Faith to Minister to the needs to all God's people, whether believers or
non-believers, in the areas of Salvation, Healing, Deliverance from Bondage, Oppression and evil spirits.
Therefore, according to the Word of God, "All these signs shall follow, those who have the Faith to Believe".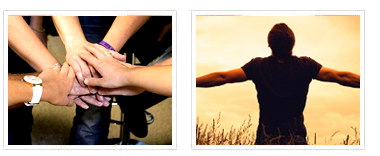 We encourage you to visit the Partners portion
of our website and if you feel led, we invite you
to register as a Prayer Partner!